The rest of this page are the personal opinions or other newsworthy ideas from Hintlink.
News from Elsewhere (BBC)

In/Out referendum of the UK and EU

Productivity - interesting!
Doomsday Clock

---
Local
Very local
---



Lunch in the USA

is typically between

12:00pm – 1:00pm

. Of course, there are exceptions. Some schools schedule lunch starting anywhere from 10:00am – 1:00pm. If possible, office-goers leave their offices by 11:30am or 11:45am to avoid long lines (sic. queues) at 12:00pm. Some people may have lunch after 1:00pm, but, that is rare. Rarer still is to see people have lunch after 1:30pm. Generally, those who have not eaten lunch by 1:30pm will skip lunch.

Musk and Tesla/SpaceX/The Boring Co., etc. Completely chaotic 'management'. Tesla will never suceed with constantly moving goalposts that score own goals. You cannot successfully run a company by Tweet, in the same way you
cannot successfully run a country by Tweet! You can panic and chase your own tail, with endless changes, Mr. Musk, but you won't stop those that know

how

to make cars from beating the hell out of you....... That's what 100 years of experience teaches you.

SkyNews Live Channel 4 News BBC News Parliament Live

Helium, critical resource

No, BBC, this comment is a disgrace:
"Meanwhile, Tom Enders is due to leave his job in April. So perhaps he's in a very good position to talk tough, without worrying whom he's upsetting in the process."
Theo Leggett, BBC business correspondent. You assume somebody retiring will always do the wrong thing? Disgusting.

---
Lords voting:

Conservative (

241

), DUP (

4

), Labour (

178

), Liberal Democrats (

96

),
Ulster Unionist Party (

2

) UK Independence Party (

1

) Green Party (

1

) Plaid Cymru (

1

)
Non-affiliated (

29

) Independents (

6

)
Crossbench
183



Commons [650 seats]
HM Government: Conservative Party (

365

)


HM Most Loyal Opposition:

Labour Party (

203

) Scottish National Party (

48)

Liberal Democrats (

11

) Alliance APNI (

1

)
Sinn Féin (

7

) (abstentionist) Plaid Cymru (

4

) Green Party (

1

) SDLP (

2

)
Democratic Unionist Party (

8

)
Vacant:

Vacant (

0

)


Speaker:

Speaker (

1

)

---
More worrying, the Irish Parliament:
Fianna Fail

38

,

Sinn Fein

37

, Fine Gael

35

, Green

12

, Labour

6

, Social Democrats 6

---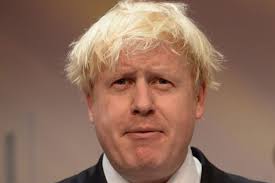 DUMB, dah, dumb, dumb, dumb! The most idiotic person to ever be selected as Prime Minister. Friend of Brannon and Trump. Born in New York with a Silver Spoon (same as Trump).

Fortunately, he won't last long in the job

.
When Elon Musk goes to Mars, he can take his fellow charlatans Trump, BoJo and FacebookBoy with him! 'It' follows May who has been quite one of the most awful PMs in modern history (equalled by Brown and Heath).


"Johnson is truly Britain's Trump. There is no institution, no relationship and no international commitment that he is not willing to sacrifice to achieve a no-deal Brexit. He is turning the Conservative and Unionist party into the English National Party. He must be stopped."

2019-11-29 and no change! BoJo 'answering' questions.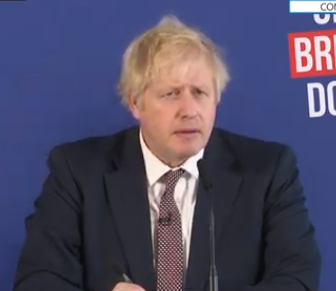 As of ..... 2019-09-09. CRISIS really starts to bite.

The PM has seen a poll which says that the Tories will not win a general election

Parliament will be prorogued at end of business

2019-09-09

, until 2019-10-14. Changed from 2019-09-13!!

Bill is signed into law preventing a 'no-deal' Brexit.

Government is not applying for an extension to the Brexit day of 2019-10-31

Government to call General Election.

Denied by vote.



Speaker Bercoe resigns from next session.

In December there is going to be SERIOUS unrest in the UK

Proroguing of Parliament ruled illegal [2019-09-11] .... pending London ruling

Countdown to Brexit
Countup of US Govt. shutdown

If you're British - vote for this. Vote REVOKE now

Summary of the REVOKE petition. Many constituencies at 30% of the full vote!



---
US Govt. Shutdown 2018/19
Most Government departments
re-open at 6:00 AM on Monday, January 28, 2019
Departments that were closed:



National Science Foundation
Enviromental Protection Agency
National Institute of Standards and Technology
Chemical Safety Board
Energy Star
USGS (Earthquake and water services [mostly] running)
NOAA (NWS [mostly] running)
Dept. of Interior (National Parks Service)
FCC (except money grabbing)
FBI - no site updates
FAA - un-paid workers keep it going
FTC - down
DHS e-Verify dead
USDA
Federal Register (important)



Functioning:


IRS (refunds will be affected soon, if they start on 2019-01-20)
Treasury (on emergency funds)
Federal Courts (will run on emergency funds soon)
Healthcare
Dept. of Energy (except Energy Star)

---
Pending (and then confirmed) news
Last year, Trump directed the Commerce Department to investigate whether automotive imports pose a threat to national security, with a report due no later than 2019-02-17. If the report finds cause for concern (as everybody expects), it would give him the authority to impose tariffs within 90 days. He has already proposed a 25% tariff on imported autos.